USA Today
19 Aug 2011
SafeLibraries's
Dan Kleinman
is a "
library watchdog
." SafeLibraries is "
a clearing house for information about challenging books
." For example, here I am on the front page of
USA Today
: "
Schools Once Again Face Bind Over Censorship vs. Book Lists; Pressure from Parents, Boards a Rite of Fall Season
," by
Natalie DiBlasio
,
USA Today
, 19 August 2011, p.1A.
I provided a significant portion of the underlying research that led to the
American Library Association being labeled as one of the nation's leading porn facilitators
in April 2013. National attention was so viral, so widespread, that
ALA was forced to respond quickly, and in doing so, it merely doubled down on its facilitation of porn, which it implicitly terms "constitutionally protected materials" or "information
." ALA ignores
US v. ALA
, 539 US 194 (2003), a case it lost while trying to block library filtering: "public libraries' use of Internet filtering software does not violate their patrons' First Amendment rights;" "public libraries have traditionally excluded pornographic material."
ALA and similar groups now work to induce communities to include such material
.
I have
recorded an ALA award winning author essentially admitting ALA fakes its annual top 10 list of challenged books
. Ever since I proved ALA is faking the supposed "banning" of books dealing with homosexuality, no subsequent list has included such a book despite one topping the list for half a decade. The extent of the "banning" of such books was faked by ALA.
I brought to
national attention that ALA was anonymously promoting "net neutrality" on Wikipedia despite ethical and federal tax codes, and ALA reacted by having me blocked from Wikipedia
.
Associated Press uses law enforcement experts found while searching my site
, likely since the ALA/
American Libraries
and the independent
Library Journal
do not report on what they do not want people to hear.
Email: SafeLibraries@gmail.com
Facebook:
Dan Kleinman
Twitter:
Follow @SafeLibraries
Phone/Text: 973-610-8296
Address: SafeLibraries, 641 Shunpike Rd #123, Chatham, NJ 07928
Member: Freedom to Read Foundation
Past Member: American Library Association
Media Interview Talking Points:
Library Law Allows Porn Exclusion and Allows Governments to Ensure Same
Library leaders fear debating me: "
Porn in Public Libraries
," by
Walter Kane
,
Kane In Your Corner, News 12 New Jersey
, 5-6 November 2011.
Most significantly, the author of the
Children's Internet Protection Act
says exactly what I have been saying:
I help people and governments across the nation and internationally. For example, here's how to make libraries safer:
I also assist in writing legislation and, using my background as an attorney, may assist with litigation and/or expert evaluation/testimony. I am even a volunteer librarian, though I have no training from an ALA-accredited library school. But I really love my volunteer work and I'm gaining even more of an appreciation for professional librarians, and especially patrons.
ALA Acknowledges SafeLibraries
Some evidence of ALA recognition of my success in informing communities includes:
SafeLibraries in ALA's Banned Books Week web site in the past.
The ALA lists me in its "Intellectual Freedom Manual" as "acting to restrict information in libraries," which I do not. It is the ALA that acts to restrict local control over local libraries using well-honed propaganda tracing its roots back to an Illinois state ACLU leader joining the ALA and creating the "Office for Intellectual Freedom" that changed how librarians approached children. No longer would librarians protect children from inappropriate material; now it's just the opposite. In working to expose these facts, I have apparently become the ALA's leading opponent, and this is just more evidence, especially given the other groups listed are quiescent:
SafeLibraries in ALA's Intellectual Freedom Manual.
Certifications
In June 2007, Dan earned a
Certificate of Completion
in "Presenting Internet Safety Programs to Teenagers" by the
Morris County Fire Fighters and Police Training Academy
. As a result, Dan's guidance for parents can be found at
LMIRL
. Curious what LMIRL means? If you don't know, your children may be in danger.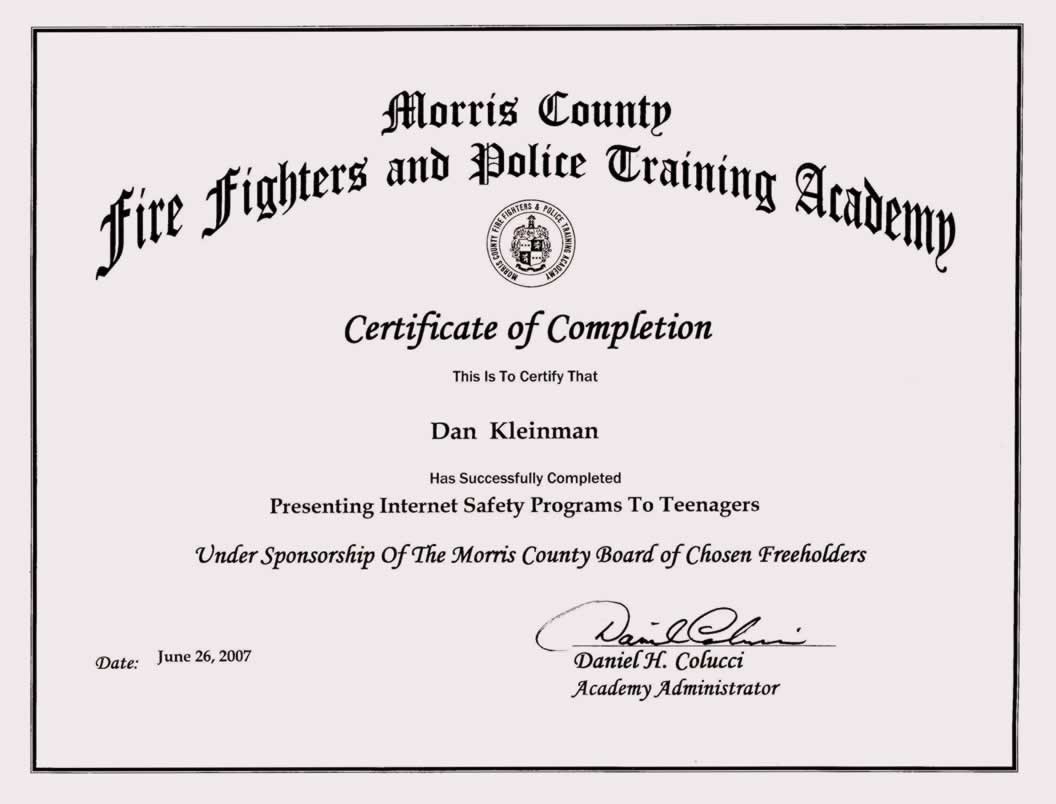 Certificate of Completion
for
Presenting Internet Safety Programs to Teenagers
ALA's Lawyers for Libraries
In May 2007, Dan earned CLE credit in "Lawyers for Libraries" by the ALA. That's what I could have said had the ALA's "Office for Intellectual Freedom" not repeatedly raised new hurdles to keep me out of that very class despite Pennsylvania Supreme Court Rules. Read this hypocritical disgrace in the ALA's own words at
Unequal Access
.
Members of the Media
Members of the media seeking another point of view on school book challenges or library crimes and coverups are welcome to contact me at any time. Unlike the ALA, I provide accurate information, including a list of reliable sources where anyone can determine the truth of the matter for themselves. Hint:
US v. ALA
and
Bd of Educ. v. Pico
.
More About Me
There's a lot
more about me on the Publications page
. And I discuss how I started
here
.
SafeLibraries Business Card
Dan Kleinman, Library Watchdog